When it comes to laundry appliances, one often overlooked but incredibly useful addition is the laundry pedestal. Whether you're considering getting one or simply curious about what they offer, you're in the right place. In this blog, our laundry experts at Woodcocks will discuss the purpose of a laundry pedestal, what it is, its benefits, and whether it is worth the investment.
What Is a Laundry Pedestal?
Laundry pedestals are designed to raise washing machines and dryers off the ground. Essentially, a pedestal is a sturdy platform that provides a few inches of height beneath your appliances. They are typically made from durable materials like steel or plastic, and they are built to hold the weight of your laundry appliances.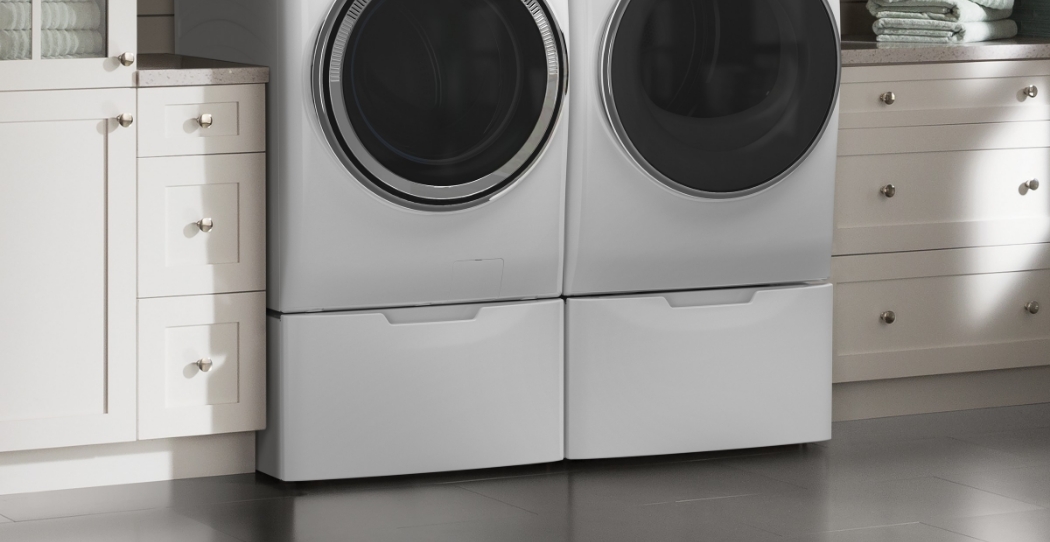 Benefits of a Laundry Pedestal
Elevating your laundry appliances off the ground offers the following benefits:
Convenience: The primary purpose of a laundry riser is to raise your washer and dryer to a more comfortable height. This is convenient, as it keeps you from bending over excessively to load and unload your laundry.
Improved Airflow: Elevating your appliances improves airflow underneath, which can help prevent mold and mildew growth. It also helps with heat dissipation, which can extend the life of your appliances.
Storage Space: Many laundry pedestals come with drawers for additional storage space. You can store detergents, dryer sheets, and other laundry essentials, keeping your laundry area more organized.
Aesthetics: Finally, pedestals can give your laundry room a sleek and cohesive look. They come in various finishes, allowing you to match them with your appliances and decor.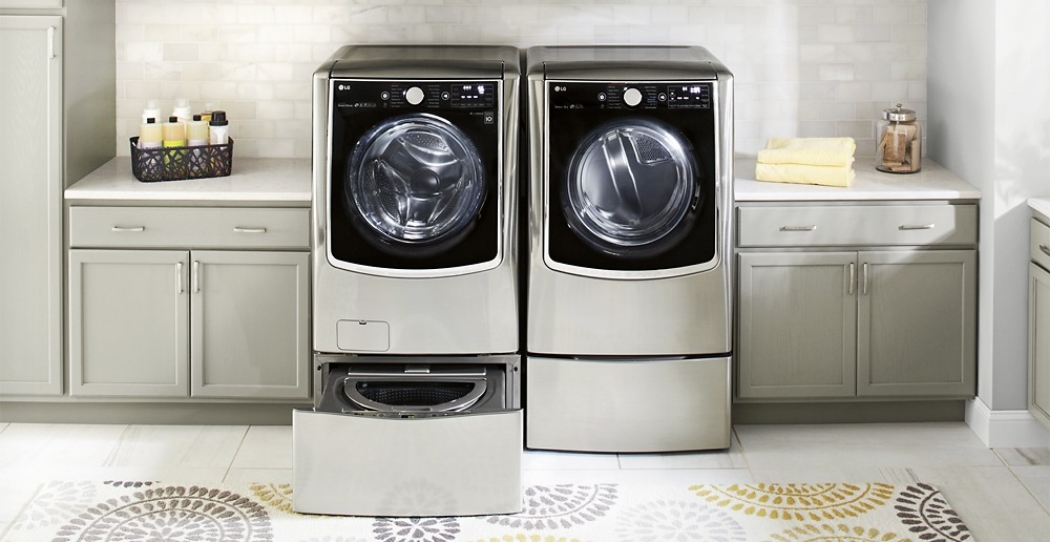 Smart Laundry Pedestal
While most pedestals primarily focus on elevating your washer and dryer off the ground, LG has taken innovation a step further. The LG SideKick is essentially a mini-washer that fits beneath your main washer, just like a regular pedestal. It's designed to wash a small load quickly or delicate fabrics that require special care.
With the LG SideKick, you can run a separate wash cycle simultaneously with your main washer. The SideKick can be controlled and monitored remotely through your smartphone.



Are Laundry Pedestals Worth It?
The question of whether washer and dryer pedestals are worth the investment depends on your specific needs and preferences. If you value ergonomic benefits, extra storage, and an organized laundry space, a laundry pedestal is a worthy addition. Moreover, if you often find yourself dealing with small separate loads, a smart pedestal like the LG SideKick can add another layer of convenience.
However, keep in mind that a laundry pedestal is not necessarily for everyone. Laundry pedestals can be an additional expense, especially a smart pedestal model like the LG SideKick. Laundry pedestals often require professional installation to ensure stability and safety, which adds to the overall cost. Finally, if you have a tight or compact laundry area, a pedestal may not be practical at all, as it could further limit the available space in your laundry area.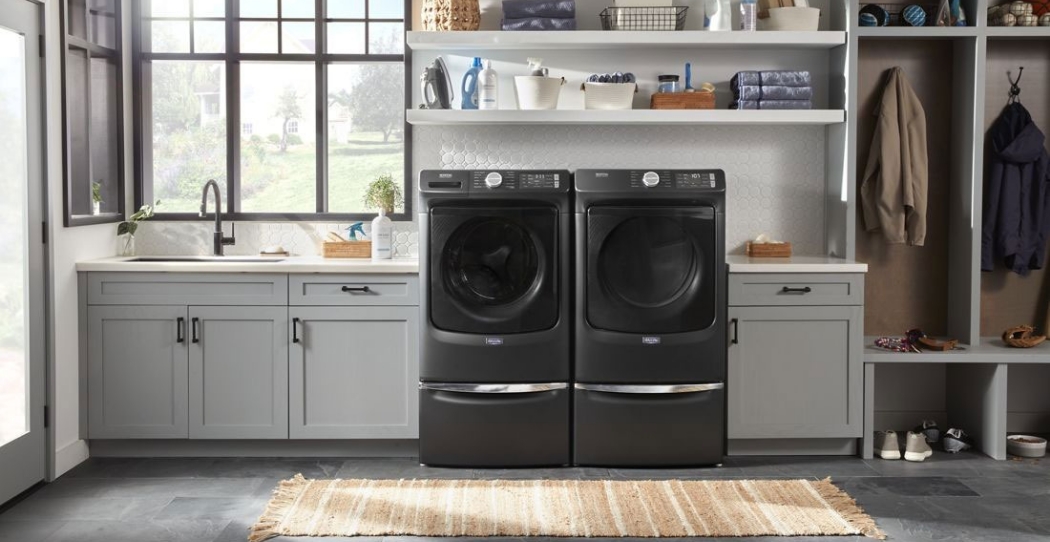 What Laundry Pedestal Should I Buy?
When it comes to buying a pedestal, there are a few factors you must keep in mind. First and foremost, it is crucial to understand that most of the time pedestals are designed to be brand-specific. Therefore, make sure that the pedestal you choose properly fits your specific brand and model of washer and dryer.
Second, prioritize your needs and preferences. If your goal is to elevate your appliances off the ground for convenience, then pay attention to the height of the laundry riser. They come in various heights, ranging from 5 inches pedestals to 27 inches. Alternatively, if you would like the convenience of having extra storage under your washer and dryer, choose a pedestal that comes with a storage drawer. On the other hand, if you want the flexibility of running smaller loads separately, consider a smart pedestal like the LG SideKick.



Get a Laundry Pedestal at Woodocks
Explore our selection of laundry pedestals at Woodcocks and enhance your laundry experience today. If you have any questions about laundry pedestals, make sure to contact us or visit our appliance store in Doral, FL. Our laundry appliance experts are ready to assist you in finding the pedestal that better suits your needs.
Don't forget to check out our extensive laundry appliance catalog for a wide range of laundry accessories. If you're considering upgrading your laundry appliances, we have fantastic deals on top-load washers, front-load washers, dryers, and complete laundry sets including stacked washer and dryer models.
Learn more about laundry appliances with our buyer's guide for washers and the top 5 Energy Star-certified washers you should buy.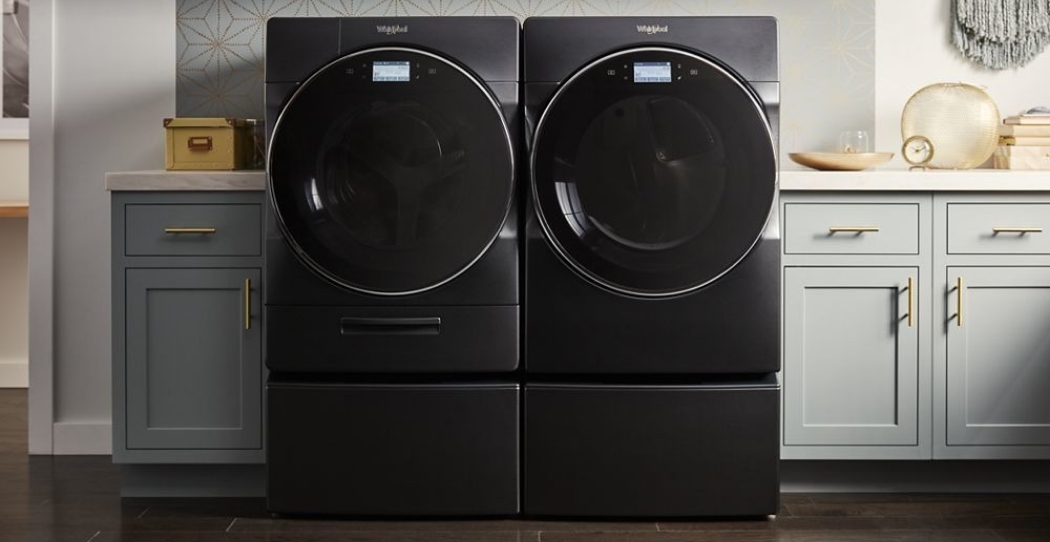 Frequently Asked Questions About Pedestals
Can I install a laundry pedestal myself?
It's possible to install a laundry pedestal yourself. However, we recommend that our clients hire a professional to ensure the safety and stability of your appliance.
Are laundry pedestals universal, or do they vary by brand?
Laundry pedestals are brand-specific. Make sure to purchase one that is compatible with your washer and dryer models.
Can I use laundry pedestals with front-load and top-load machines?
Laundry pedestals are designed for front-load machines. They may not be suitable for top-load machines and can make loading your laundry more difficult.
Are laundry pedestals available in different colors to match my appliances?
Yes, laundry pedestals come in various finishes to complement your washer and dryer.
Where can I buy laundry pedestals?
You can find laundry pedestals and risers in our online or physical store in Doral, Florida.