In today's fast-paced world, culinary technology continues to evolve, transforming the way we prepare our meals. One such innovation that has taken kitchens by storm is the induction cooktop. A significant factor driving its increasing popularity is its exceptional energy efficiency and ability to expedite cooking processes. According to the Environmental Protection Agency (EPA), induction cooktops are reported to be around 5-10% more efficient per unit when compared to regular electric resistance stoves, and three times more energy-efficient than gas cooktops.
In this blog, our stovetop experts will dive deep into the world of induction cooktops, exploring their fundamental principles, remarkable benefits, and cost considerations.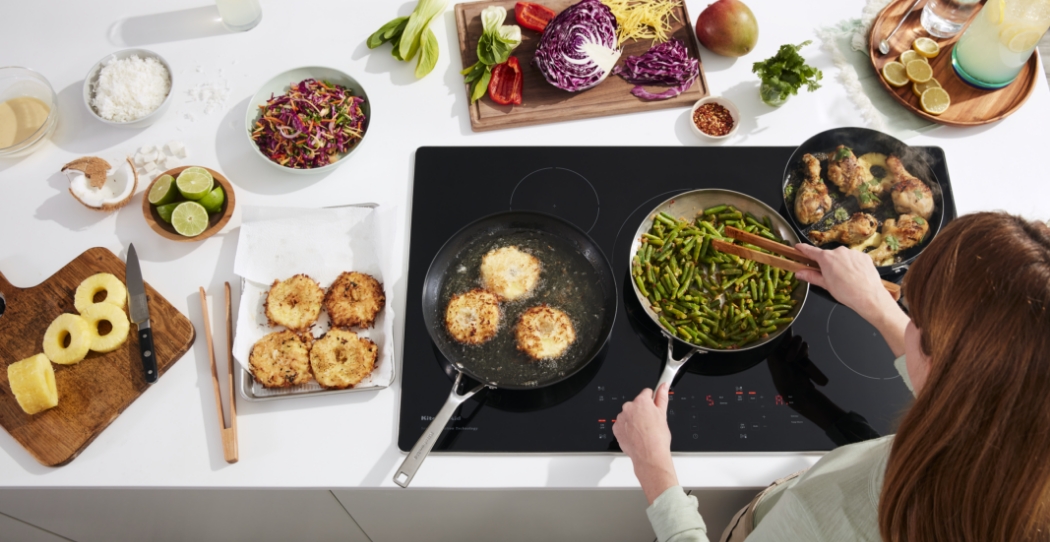 What is an Induction Cooktop?
An induction cooktop is an innovative kitchen appliance designed to revolutionize the cooking experience. Unlike traditional cooktops that rely on gas or electric coils, induction cooktops utilize electromagnetic fields to directly heat the cookware. This enables rapid and precise heating, ensuring that your culinary creations are brought to life efficiently.
How Does an Induction Cooktop Work?
The science behind induction cooktops is not complicated at all. When cookware made of ferromagnetic material is placed on the cooktop's surface, an electric current passes through a coil beneath it, generating a magnetic field. This magnetic field induces a current in the cookware, generating heat due to its electrical resistance. The result is direct and immediate heating of the cookware, offering unprecedented control over temperature adjustments.
Benefits of Induction Cooktops
Induction cooktops come with a host of advantages that cater to both amateur cooks and seasoned chefs alike:
Speed and Efficiency: The rapid and direct heating ensures that your cooking vessel reaches the desired temperature quickly, reducing overall cooking time.
Precision Control: With precise temperature adjustments, you can effortlessly switch between simmering, boiling, and searing with accuracy. Just ensure your cookware is induction-compatible by using a magnet to check for magnetic properties.
Safety Features: Induction cooktops remain cool to the touch, and it only activates when a compatible pan is placed on it, reducing the risk of someone getting burned. Most induction stovetops will automatically turn off if no cookware is detected. Additionally, many models come with child locks.
Easy Cleanup: Since the cooktop itself doesn't heat up significantly, spills and splatters are less likely to stick, making cleaning simpler. Make sure to wipe the surface after each use with a damp cloth to prevent residue buildup. Use non-abrasive cleaners to avoid damaging the glass surface.
Energy Efficiency: Induction cooking wastes minimal heat energy as it's focused directly on the cookware. This translates to faster heating properties and lower energy bills.
Cost of Induction Cooktops
When it comes to the costs associated with induction cooktops, they offer a mix of advantages that can make them a great investment. Our induction cooktops at Woodcocks range from $1,000 up to $4,000. The cost depends on the brand and features included in each model we offer. While the initial purchase price of induction cooktops might be slightly higher compared to traditional stovetops, they tend to make up for their price in the long run thanks to their energy efficiency. This also leads to savings on your energy bills over time.
Featured Models
If you're thinking about purchasing an induction stovetop but aren't certain about particular models, be sure to take a look at some of the recommendations chosen by our team of experts:
Our Pick: Frigidaire 30" Induction Cooktop - FCCI3027AB
Features:
Heating elements: 4
Size: 30"

Maximize your cooktop's efficiency with the Convenient Bridge Element, which lets you combine two elements to create a larger cooking area, perfect for accommodating griddles or big pans.

Enjoy consistent outcomes with Even Heat technology, as induction ensures steady, even heating across your pan's surface for reliable cooking results.

Experience exceptional responsiveness and precision, surpassing the speed of gas and the accuracy of electric.

Induction swiftly adjusts from a gentle simmer to a vigorous boil, offering immediate control.
Our Pick: Whirlpool 30-Inch Induction Cooktop - WCI55US0JS
Features:
Heating elements: 4

Size: 30"

Experience easy cleanup with the induction technology that maintains a cool cooktop area around the elements, preventing stubborn messes.

Simplify cooking with the Assisted Boil feature. This is a helpful tone and flashing light that indicates the ideal time for adding food.

Assisted Pan Frying guides you with a tone and light when your oil is ready for cooking, streamlining the process.
Our Pick: GE Profile™ 36" Built-In Touch Control Induction Cooktop - PHP9036DTBB
Features:
Heating elements: 6

Size: 36"

Elevate your cooking with Synchronized Elements, connecting two burners for larger pans.

Experience automatic activation of fans and lights when a burner is used, ensuring a coordinated cooking environment.

Utilize Timer for meal prep coordination.

Take advantage of the Built-in WiFi functionality to monitor burners, view power levels, and monitor precision temperatures remotely.

Ensure safety with the Control Lock setting that prevents accidental activation of your cooktop
Our Pick: Monogram 36" Induction Cooktop - ZHU36RSTSS
Features:
Heating elements: 6

Size: 36"

Set your burner to an exact degree, providing precise heat from 100 to 500 degrees.

Achieve a sleek, modern aesthetic with Flush-Mount Capable design. Use the optional accessory kit to seamlessly inset the cooktop into your countertop.

Enjoy full control with Glide Touch Controls. This feature offers 19 heat settings accessible with a single swipe for accurate heat adjustment on this easily cleaned electric cooktop.

Expand your cooking space with Synchronized Elements, which connects two burners for larger pans like griddles.

Prioritize safety with Control Lock, preventing unintentional activation of the cooktop.

Stay aware with Hot Surface Indicator Lights, quickly notifying you when elements are hot.
Elevate Your Cooking Experience at Woodcocks
Induction cooktops represent a culinary evolution that combines efficiency, safety, and precision. With their rapid heating and innovative technology, they empower you to create delectable dishes with ease. Embrace the future of cooking and explore our range of induction cooktops today.
If you have any questions make sure to contact us today or visit our appliance store in Doral, FL. Our experts at Woodcocks are ready to answer any questions you might have and assist you throughout the process of choosing the right induction cooktop. Since 2009, Woodcocks has been a trusted appliance distributor and retail seller, delivering excellent customer service and the best quality appliances at highly competitive rates. So why wait? Upgrade your cooking experience and make your kitchen a hub of innovation with induction cooktops. Trust in our expertise!
Are you interested in discovering additional cooking appliances available at Woodcocks? Our stores feature an extensive variery of ovens, ranges, microwaves, small appliances and more!
Related Reading:
Commonly Asked Questions About Induction Cooktops.
Are all pans compatible with induction cooktops?
Only pans with magnetic properties, such as those made of stainless steel or cast iron, are suitable for induction cooking.
Do induction cooktops consume a lot of electricity?
No, due to their direct and efficient heating process, induction cooktops are energy-efficient and can help lower electricity bills.
Can I use induction cookware on a gas stove?
Yes, induction-compatible cookware can be used on gas stoves, but not the other way around.
How do I know if my stove is induction?
If the surface of your cooktop remains cool when on and doesn't glow, it is likely an induction cooktop. Electric cooktops tend to become hot and glow (usually red) whether or not there is cookware on top.
Do cast iron and stainless steel pans work on induction cooktops?
Yes, cast iron and stainless steel pans are suitable for use on induction cooktops. These types of pans are compatible with induction technology because they have magnetic properties that allow them to heat up when placed on the cooktop.
Is it hard to install an induction cooktop?
Installing an induction cooktop can be complex. We advise customers to hire a professional for installation to ensure that the cooktop is set up correctly and safely.