In today's fast-paced world, technology continues to transform every aspect of our lives, even our kitchens. Imagine a refrigerator that goes beyond its conventional role and becomes your ultimate kitchen companion. That's where smart refrigerator technology comes in.
In this guide, we'll explore the world of smart fridges, uncovering their features, benefits, and considerations for purchase. Additionally, our refrigerator experts at Woodcocks have handpicked four smart fridges that they believe are worth considering. Let's discover the incredible advantages that smart refrigerator technology brings to your home.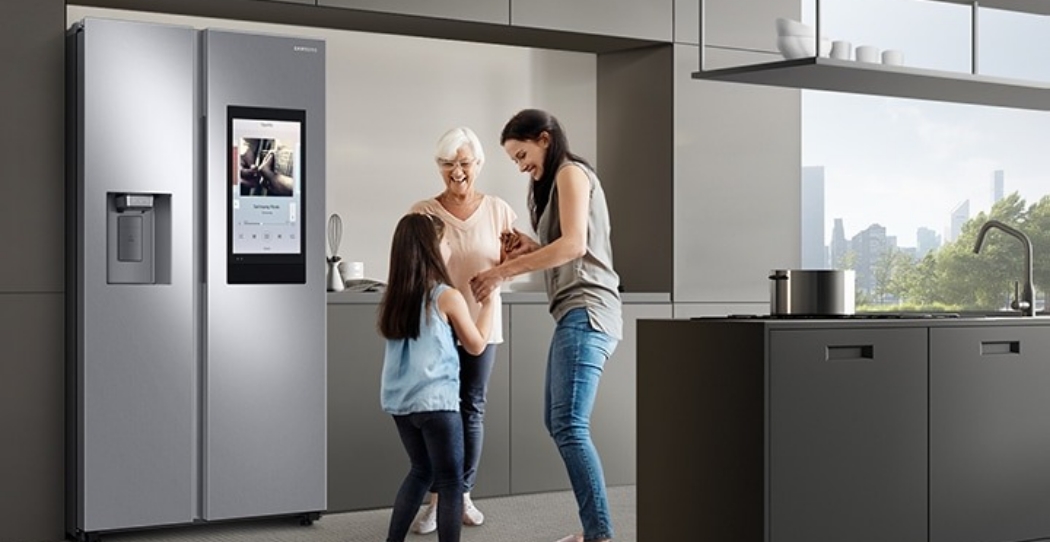 What Is a Smart Refrigerator?
A smart refrigerator is not just an appliance; it's a game-changer in the kitchen. Unlike traditional refrigerators, which simply keep your food cold, smart fridges are equipped with advanced technology that connects them to the internet and offers a range of innovative features.
Let's uncover the features and benefits that smart fridges provide:
WiFi Connection: Connect your smart fridge to your home WiFi network. This enables a range of functionalities that keep you connected and in control.

Remote Monitoring: Ever found yourself wondering if you're out of product while standing at the supermarket? Smart refrigerators can help by tracking your inventory and sending alerts when items are running low.

Built-in Cameras: Some models feature interior cameras that let you peek inside your fridge from anywhere.

Meal Planning Made Easy: Smart fridges can suggest recipes based on the ingredients you have on hand. This makes meal planning a breeze and reduces the need for last-minute grocery store runs.

Energy Efficiency: These fridges are designed to be energy-efficient, helping you reduce your carbon footprint and lower your utility bills.

Customizable Temperature Zones: Keep your produce fresher for longer by adjusting temperature zones to match different food types.

Voice Control: Control your smart fridge by using voice commands. This feature allows you to add items to your shopping list, set reminders, and more.

Entertainment Hub: Some smart fridges come equipped with screens that can display recipes, stream cooking videos, or even play music.
What to Consider When Buying a Smart Fridge
In the process of buying a smart fridge, it's important to consider several factors besides the benefits mentioned above. The following factors are crucial to ensuring you choose the best option for your kitchen and lifestyle:
Budget: Smart fridges come in a range of price points, so it's important to find one that aligns with your budget.

Compatibility: Check if the fridge is compatible with other smart home devices you own, such as Alexa or Google Assistant.

Size and Layout: Consider the size and layout of your kitchen to ensure the fridge fits properly into your space.

Features: Evaluate the features that matter most to you. If you love cooking, a model with recipe suggestions and a built-in screen might be ideal. If you focus on sustainability, prioritize energy-efficient refrigerators.

Brand Reputation: Research reputable brands known for producing reliable smart appliances.
If you are interested in learning about other factors to consider when purchasing a refrigerator, make sure to read our buyer's guide for refrigerators.
Our Favorite Smart Fridges
26.7 Cu. Ft. Large Capacity Side-By-Side Refrigerator With Touch Screen Family Hub™ In Stainless Steel (RS27T55q161SR)
Why We Like It:
Simplify meal planning through integrated apps for recipe searches and grocery shopping. Six dash buttons offer seamless, one-touch ordering, enabling a healthier lifestyle with fewer trips to stores.
Elevate entertainment with music streaming from your preferred apps and mirror your TV directly onto the Family Hub™. Stay connected and organized by managing virtual events, setting reminders, and sharing digital memories. Receive appliance notifications throughout your home, enhancing multitasking efficiency. The built-in SmartThings Hub further empowers your smart home experience by providing energy-saving insights and notifications.
LG SIGNATURE 23 Cu. Ft. Smart Wi-Fi Enabled InstaView™ Door-In-Door® Counter-Depth Refrigerator (URNTC2306N)
Why We Like It:
Experience the sophisticated functionality of the Platinum Fresh wall fridge. Its stainless steel interior preserves cold air. The innovative Auto Open Drawer™ extends freezer drawers upon opening the doors, ensuring easy access.
With voice control, a simple "Hi LG" prompts ThinQ® to open doors and adjust dispenser modes for your convenience. ThinQ® analyzes patterns for a customized experience, optimizing cooling performance and energy conservation. Elevate your fridge experience with cutting-edge design and intelligent features
GE Profile™ Series 48" Smart Built-In Side-By-Side Refrigerator With Dispenser (PSB48YSNSS)
Why We Like It:
Experience enhanced connectivity with built-in WiFi, enabling remote monitoring and control via your smartphone. Stay informed with insightful alerts regarding open doors or service requirements. The climate controlled drawer ensures optimal food preservation, offering adjustable internal temperatures across three settings: Meat, Produce, or Citrus. Customize your storage conditions to match your culinary needs, maintaining freshness and flavor.
Freestanding Refrigerator Freezer, 32", 17.1 Cu Ft, Ice (RF170WDLJX5)
Why We Like It:
Genuine stainless steel graces the exterior, while sturdy glass shelving enhances the interior. Seamlessly integrated into the design, the SmartTouch control panel ensures intuitive ease of use, conveniently situated at the fridge's forefront. With Activesmart™ Foodcare, a sustainable ethos shines through.
This refrigerator freezer adjusts its cooling and defrosting cycles, optimizing energy usage while upholding food preservation. Experience a harmonious blend of lasting quality, intuitive operation, and eco-conscious innovation.
Shop Our Wide Selection of Smart Fridges Today
For more options on smart refrigerators, make sure to check out our online inventory or visit our store in Doral, FL. Our smart refrigerator experts at Woodcocks are here to answer your questions and help you find the perfect fit.
Don't forget we showcase an extensive range of refrigerator styles, including side-by-sides, French doors, bottom-freezers, top-freezers, built-ins, compacts, and specialty models. Our offerings also include freezers, as well as refrigerator accessories for your convenience.
Frequently Asked Questions About Smart Refrigerators
What is the difference between a smart refrigerator and a traditional refrigerator?
The main difference lies in the advanced technology of a smart fridge. Many smart fridges come with features like inventory tracking, remote monitoring, and customizable temperature zones.
Can I control my smart fridge when I'm not at home?
Absolutely! Many smart fridges offer remote control options through dedicated smartphone apps, so you can manage your fridge even when you're away.
Are smart refrigerators difficult to set up?
Not at all. Setting up a smart fridge is usually straightforward and comes with clear instructions. Plus, customer support is available if you encounter any issues.
Do smart fridges consume more electricity?
No, quite the opposite. Smart fridges are designed to be energy-efficient, helping you save on electricity bills while minimizing your environmental impact.
You can also learn more about energy saving by checking out Energy Saving Tips For Refrigerators.
Can I connect my smart fridge to other smart home devices?
Yes, you can connect your smart fridge to other smart home devices. This feature allows you to create a unified and connected living environment.
What happens if the internet connection is lost?
Certain features may become temporarily disabled. However, the core functions of a smart fridge, such as keeping your food cold, will remain unaffected.
Should I buy a smart fridge?
This decision truly depends on your specific needs. Smart fridges offer a range of advanced features that can greatly enhance your kitchen experience and streamline your daily routine However, most smart fridges will have a higher initial cost.