Compact refrigerators have emerged as a game-changer when it comes to food storage. These miniature marvels offer convenience, versatility, and space-saving solutions that make them a popular choice for a wide range of settings. In this blog, our refrigerator experts at Woodcocks Appliances will help us explore the world of compact refrigerators, exploring what they are, their benefits, the different types available, and whether investing in one is worthwhile.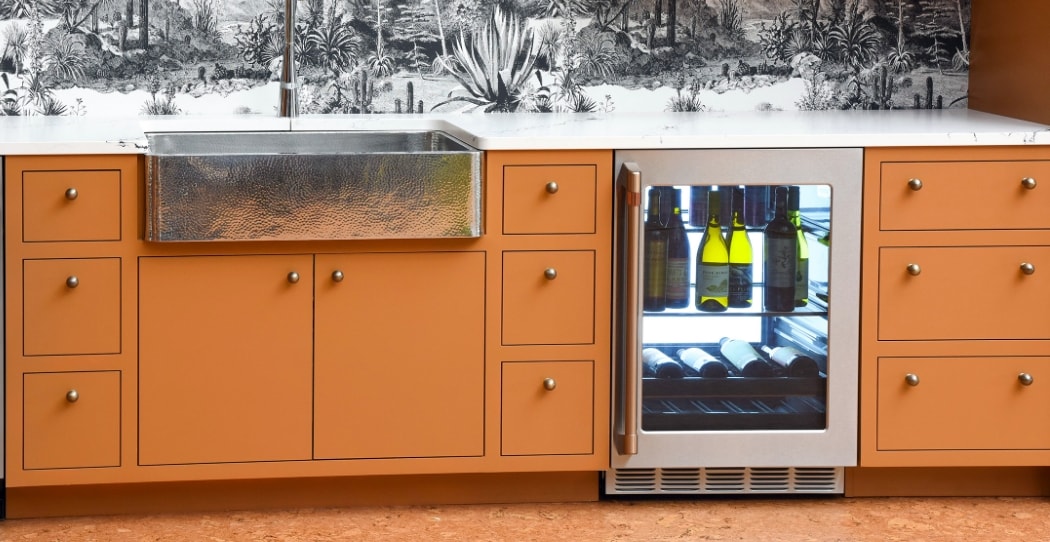 What Are Compact Refrigerators?
Before we dive into the details, let's begin by defining what compact refrigerators are. They are smaller versions of traditional refrigerators. They are designed to provide cooling and storage capabilities in a more compact and space-efficient form. Compact fridges are also known as mini-fridges and they come in different brands.
What Sets Compact Refrigerators Apart?
Compact refrigerators are typically smaller in size, making them suitable for dorm rooms, offices, bedrooms, and even outdoor spaces. They often feature adjustable shelves, temperature control, and freezer compartments, making them versatile for different storage needs.
Space Efficiency
One of the primary benefits of compact refrigerators is their space efficiency. They are perfect for small apartments, dormitories, and offices where space is limited.
Portability
Compact fridges are lightweight and easy to move around. This allows you to place them wherever you need them, whether it's in the kitchen, bedroom, or even on the patio.
Energy Efficiency
Many compact refrigerators come with energy-efficient features that help save on electricity bills. Energy Star compact refrigerators are designed to run efficiently while maintaining optimal cooling.
Customization
Some mini-fridges offer customizable shelving and storage options, allowing you to organize your items as per your preferences.
Types of Compact Refrigerators
Now that we have a clear understanding of what compact refrigerators are, let's explore the various types available in the market.
Single-Door Compact Refrigerators
Single-door compact refrigerators are the most common type. They feature a single compartment for both refrigeration and freezing, making them ideal for storing a mix of food items.
Two-Door Compact Refrigerators
Two-door compact refrigerators, also known as mini fridge-freezer combos, have separate compartments for refrigeration and freezing. This separation ensures better temperature control and prevents odors from mixing between the two sections.
Undercounter Compact Refrigerators
Undercounter compact refrigerators are designed to fit seamlessly beneath countertops. They are popular in kitchens, bars, and entertainment areas, providing easy access to beverages and snacks.
Is It Worth Buying a Compact Refrigerator?
After considering the benefits of compact refrigerators, the question that arises is: Is it worth purchasing one? The answer hinges on your individual needs and situation.
Compact refrigerators are an excellent choice if you:
Live in a small apartment or dormitory.

Want additional storage for snacks and beverages in your office.

Need a secondary refrigerator for your garage or outdoor kitchen.

Value the convenience of having a refrigerator in your bedroom for late-night snacks.
Discover valuable insights in our refrigerator buyer's guide to better understand the essential factors to consider when buying a new refrigerator.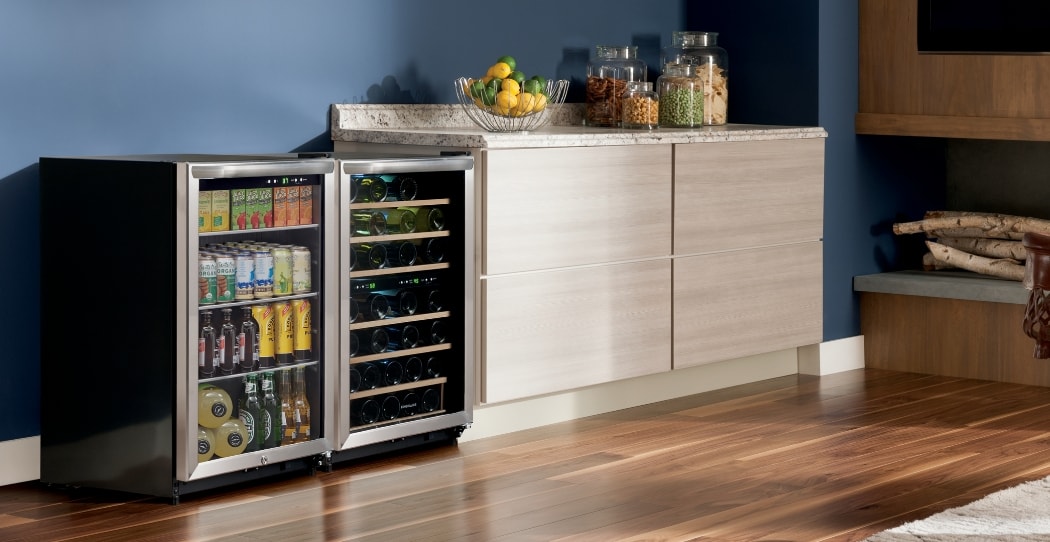 Featured Compact Fridges at Woodcocks
If you don't have any specific models in mind, make sure to explore these models that our experts have carefully selected for you:
Monogram Bar Refrigerator With Icemaker Model: ZIBI240HII
Why We Love It:
Introducing the Monogram bar refrigerator with icemaker, boasting a generous 4 cu ft capacity for all your chilling needs. Uniquely customizable, this model invites you to personalize your appliance by selecting a custom door panel and handle that seamlessly align with your decor.
The automatic icemaker operates on full-extension slides, ensuring you always have a steady supply of ice, eliminating last-minute runs to the store. Plus, its adjustable temperature control guarantees a consistently perfect environment for your drinks and snacks, making it an indispensable addition to any home or bar setup. Enjoy tailored sophistication and convenience with the Monogram bar refrigerator with icemaker.
Whirlpool Wide Undercounter Refrigerator - 5.1 Cu. Ft. Model: WUR50X24HZ
Why We Love It:
Introducing the Whirlpool undercounter refrigerator, a versatile appliance with a capacious 5 cu ft capacity. This model features a fingerprint-resistant stainless finish, which adds a touch of elegance and ensures easy cleaning while keeping unsightly smudges at bay.
The reversible stainless steel door can be installed on either side, making it adaptable to even the most unique of spaces. The spillproof glass shelves make cleanup simple, preventing liquids from seeping below and simplifying maintenance. Experience convenience and style with the Whirlpool undercounter refrigerator, designed to elevate your kitchen's functionality.
Frigidaire 4.5 Cu. Ft. Compact Refrigerator Model: FFPS4533UM
Why We Love It:
Introducing the Frigidaire Compact Refrigerator, a versatile appliance that enhances your food storage experience. This refrigerator offers great features such as easy access can holders, providing quicker and more convenient access to beverages. The adjustable glass shelves allow for easy customization, creating additional space for taller items.
With a full-width freezer that cools to -8°F and includes a shelf and door rack, you'll have maximum storage capacity for frozen goods. The bright interior lighting ensures you can effortlessly locate items, while the clear crisper drawer keeps your fruits and vegetables fresh for longer. The Frigidaire Compact Refrigerator is the perfect blend of convenience and functionality for your kitchen.
Explore More Compact Fridges at Woodcocks
Compact refrigerators offer big convenience in small packages. Their space-saving design, portability, energy efficiency, and customization options make them a valuable addition to various settings. Whether you're a college student, a professional, or simply looking for extra storage options, a compact refrigerator can be a great addition to your daily life.
If you have any questions about small fridges, make sure to contact us or drop by our store in Doral, Florida. Our friendly staff is here to help with all your fridge inquiries. Don't forget to explore our entire catalog for more home and kitchen appliances. We offer various types of refrigerators for sale, cooking appliances, dishwashers, washer and dryer sets, air conditioners, and more.
Commonly Asked Questions About Compact Fridges
Are compact refrigerators suitable for long-term food storage?
Compact refrigerators are suitable for short to medium-term food storage. They are not intended for long-term storage of large quantities of food.
Can I use a compact refrigerator as a primary fridge in my kitchen?
Compact fridges are more commonly used as secondary fridges for specific purposes due to their limited storage capacity.
Do compact refrigerators come with a warranty?
Yes, most compact refrigerators come with a manufacturer's warranty. The length and coverage of the warranty can vary, so it's essential to check the details before purchasing.
How can I maximize the lifespan of my compact refrigerator?
To extend the life of your compact refrigerator, clean the coils regularly, avoid overloading it, and ensure proper ventilation around it.
Can I store frozen food in a compact refrigerator's freezer compartment?
Yes, you can store frozen food in a compact refrigerator's freezer compartment, but it has limited space. It's best for storing a small amount of frozen items.
Related Reading: