Welcome to our Refrigerator Buying Guide! In today's diverse market, refrigerators come in all shapes and sizes, offering a wide variety of features and functions to cater to various needs. From the classic top-freezer style to the modern French door designs, there's a refrigerator for every home.
At Woodcocks, our team of refrigerator experts has crafted this guide to assist you in navigating the world of refrigeration with ease. Have you ever imagined seamlessly blending your refrigerator with your kitchen cabinets? With the innovation of custom panels, it's now possible to have a built-in refrigerator that perfectly matches your décor. Additionally, refrigerators have evolved to offer varying door configurations, including cutting-edge models featuring up to five doors, and even innovative designs with convenient beverage-filled drawers. Your unique shopping and cooking styles also play a significant role in finding your ideal refrigerator.
Let's uncover the possibilities together and find the refrigerator that aligns with your lifestyle and adds a touch of innovation to your kitchen space.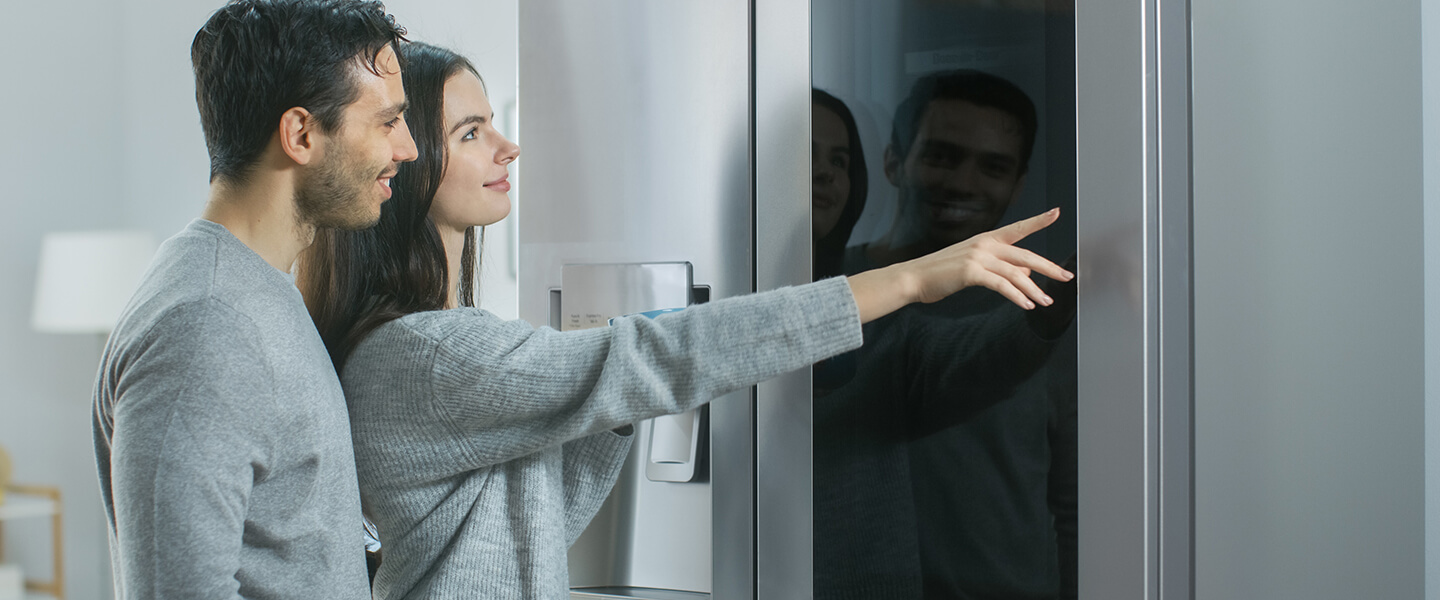 Refrigerator Style
When it comes to selecting the perfect refrigerator for your home, you'll find a wide range of configurations designed to suit your preferences and space. Each type of refrigerator offers distinct advantages, ensuring that your choice not only matches your kitchen's aesthetic but also caters to your convenience. Let's explore some of the most popular refrigerator styles available:
French Door Refrigerators
When it comes to elegance and functionality, French door refrigerators have gained immense popularity for their high-end aesthetic. Featuring two side-by-side doors for the refrigerator compartment and a bottom freezer, this style offers a seamless blend of style and versatility.
The spacious interior of French door models provides ample room for fresh foods and beverages, while the freezer compartment ensures easy access to frozen items. Whether you're storing wide platters or tall bottles, the adjustable shelves and compartments within a French door refrigerator make organization a breeze.
Featured Pick: GE® ENERGY STAR® 20.8 Cu. Ft. French-Door Refrigerator (GNE21FYKFS)
Why We Like It: Presenting a fingerprint-resistant stainless refrigerator that stays brilliantly clean with easy wiping. Discover items with ease under the bright LED lighting. Equipped with a factory-installed icemaker, this fridge automatically produces ice. Enjoy advanced water filtration that reduces trace pharmaceuticals from water and ice. Effortlessly manage temperatures with upfront controls and accurate display. Experience efficiency and convenience in one appliance.
Side-by-Side Refrigerators
If you're seeking a balanced configuration that provides equal access to both the freezer and refrigerator compartments, a side-by-side refrigerator might be the ideal choice for you. With its vertically divided design, this style offers a nearly equal split between the freezer and refrigerator sections. This means you can conveniently reach for frozen foods and fresh produce alike, all at eye level.
The adjustable shelves enhance flexibility, allowing you to customize the space according to your storage needs. Moreover, side-by-side models are an excellent fit for smaller kitchens, thanks to their narrower doors that require less clearance when opened.
Featured Pick: Gallery 25.6 Cu. Ft. 36" Standard Depth Side By Side Refrigerator (GRSS2652AF)
Why We Like It: The advanced CrispSeal® Plus Crisper seals out dry air, preserving produce and reducing ripening gas. The EvenTemp(TM) Cooling System prevents freezer burn by swiftly responding to temperature changes and circulating cold air. Our SpaceWise(R) organization system offers flexible storage, including adjustable shelves, a roomy gallon door bin, and a slim ice maker.
Enjoy the convenience of Smudge-Proof(R) stainless steel that resists fingerprints. The Deli drawer keeps sandwich fixings accessible, while ENERGY STAR(R) Certification maximizes efficiency. Multi-level bright LED Lighting helps you find items quickly, while the PurePour(TM) water filter ensures clean, great-tasting water. The PureAir Ultra(R) II air filter outperforms baking soda, ensuring a fresh fridge.
Top-Freezer and Bottom-Freezer Refrigerators
Among the most classic and versatile configurations, top-freezer and bottom-freezer refrigerators offer practicality and value. In the top-freezer style, the freezer compartment is located above the refrigerator, making it an efficient option for those who use frozen items less frequently.
On the other hand, the bottom-freezer configuration places fresh foods at an easily accessible height, eliminating the need to bend down for your everyday groceries. With various size options available, these configurations cater to different kitchen spaces while providing essential storage for both fresh and frozen items.
Featured Pick: 18 Cu. Ft. Top Freezer Refrigerator With FlexZone™ And Ice Maker In Stainless Steel (RT18M6215SR)
Why We Like It: Experience the ultimate flexibility with our refrigerator's innovative FlexZone™ feature. Effortlessly switch between freezer and refrigerator modes to suit your needs. Twin Cooling Plus™ technology ensures optimal humidity for fresher produce and minimized freezer burn. Stay cool with the automatic ice maker, which produces an abundance of ice for refreshing drinks.
Maintain a pristine appearance with the fingerprint-resistant finish. The convenient slide and reach pantry drawer stores deli items and more, while the reversible refrigerator door adds a customizable touch. Adjustable shelves provide versatile storage, accommodating items of varying heights. Elevate your kitchen with a streamlined design that adapts to you.
Featured Pick: 11 Cu. Ft. Bottom Freezer Refrigerator (LRBNC1104S)
Why We Like It: Discover a fresh perspective with our refrigerator's focus on food preservation. LG's advanced Door Cooling+ ensures a consistent flow of cold air, maintaining peak freshness for door contents. Its multi-air flow system sustains optimal humidity and temperature levels, extending your food's lifespan. Effortlessly enjoy the sleek elegance of stainless steel without the hassle, thanks to LG's PrintProof (TM) finish that resists fingerprints and smudges. Illuminate your interior with energy-saving LED lighting, while the reversible door hinge adapts to any space.
Built-In Refrigerators
For those who prioritize seamless integration and elegant design, built-in refrigerators offer a unique solution. With the ability to perfectly match your kitchen cabinets through custom panels, these refrigerators create a cohesive and sophisticated look. They maximize space utilization, offer precise temperature control, and come with a range of advanced features while seamlessly blending into your kitchen's layout.
Featured Pick: GE Profile™ Series 42" Smart Built-In Side-By-Side Refrigerator With Dispenser (PSB42YSNSS)
Why We Like It: Experience the sleek design of our 42" Built-In Refrigerator, seamlessly fitting within cabinetry for a streamlined look. The integrated dispenser with LED Lighting provides easy access to ice, water, and temperature controls. LED Lighting illuminates both fresh-food and freezer compartments, making items easy to find. Customize your climate controlled drawer's temperature for meat, produce, or citrus. Connect via built-in WiFi to monitor, control, and receive alerts on your smartphone. Fresh food multi-level drawers maintain optimal conditions for fruits and vegetables.
Enjoy spill proof glass shelves and large door bins for hassle-free organization. Adjust the freezer shelves to accommodate various items, complemented by a convenient built-in ice maker. Streamlined storage extends to the freezer with full-extension freezer baskets for easy access.
CONSIDER THE SIZE
An essential step in finding the ideal refrigerator is to consider the available space in your kitchen. Measure the area where you plan to place the refrigerator, and don't forget to account for doorways and clearances. Leaving adequate space for the doors to swing open and ensuring proper airflow around the appliance is crucial for its efficiency and longevity.
For a family of four, the recommended refrigerator size typically falls within the range of 19 to 22 cubic feet. However, if your household often buys groceries in bulk or entertains guests frequently, a larger model in the range of 30 to 33 cubic feet might be more suitable. Opting for a refrigerator with adjustable shelving and storage options can help you make the most of the available space and adapt to your changing needs.
ENERGY GUIDE LABEL
Energy efficiency is a significant consideration not only for the environment but also for your utility bills. Newer refrigerator models are designed to be more energy-efficient, but it's essential to understand how to assess their energy performance. The Environmental Protection Agency's Energy Star rating is a valuable indicator of a refrigerator's efficiency. Generally, refrigerators with this rating fall within the top 25 percent of energy-efficient appliances.
It's important to note that energy efficiency can vary based on the specific model and features. Keep an eye out for additional energy-saving technologies such as variable-speed compressors, improved insulation, and smart cooling systems. By choosing an energy-efficient refrigerator, you not only contribute to sustainability but also save money over the appliance's lifespan.
Featured Pick: 36-Inch Wide French Door Refrigerator With Water Dispenser - 25 Cu. Ft. (WRF535SWHZ)
Why We Like It: Presenting an Energy Star refrigerator crafted for convenience. Its sleek finish resists fingerprints and smudges, ensuring easy cleaning. Maintain the freshness of fruits and veggies in humidity-controlled crispers. Access fresh, filtered water through the interior water dispenser. The expansive full-width drawer accommodates party platters, while frameless glass shelves offer added storage space. Gallon door bins create more shelf space for larger containers. Encounter practicality and style united in this appliance, available in Black Stainless Steel and Stainless Steel finishes.
SHOPPING AND COOKING HABITS
Your shopping and cooking habits play an important role in determining the features your refrigerator should offer. If you're someone who prefers bulk shopping to save time and money, prioritizing ample freezer space is essential. Consider refrigerators with spacious freezer compartments and adjustable shelves to accommodate larger frozen items.
On the other hand, if your culinary preferences lean toward fresh produce and perishables, focus on refrigerator compartments with customizable humidity and temperature controls. Adequate storage for fruits, vegetables, and dairy products is crucial to preserving their freshness and flavor.
Explore Your Perfect Refrigerator Options at Woodcocks
When choosing the right refrigerator, think about how your kitchen is set up, your energy-saving goals, and what suits your daily routine the best. Considering size, energy efficiency, and your food shopping habits will help you decide on the perfect fit. Explore more options on our website or drop by our store in Doral, FL to find the best refrigerator for your home.
If you're unsure about the ideal refrigerator model for you, our friendly experts at Woodcocks are here to help. We offer a wide range of refrigerator types, from French doors to top and bottom freezers, side-by-sides, built-ins, compact refrigerators, specialty models, and various refrigerator accessories. Get in touch with us today for personalized assistance.
Frequently Asked Questions When Buying a Refrigerator
How do I measure the available space for a refrigerator?
To measure the space, use a tape measure to determine the width, height, and depth of the area where you intend to place the refrigerator.
Can I customize the exterior of a Built-In Refrigerator?
Yes, many built-in refrigerators offer the option of custom panels, allowing you to seamlessly integrate the appliance with your kitchen cabinets for a cohesive and sophisticated look.
What is the benefit of a smart cooling system in a refrigerator?
A smart cooling system optimizes temperature and humidity levels, helping to extend the shelf life of your food and reduce energy consumption.
Can I control a refrigerator using my smartphone?
Yes, many models come with built-in WiFi, allowing you to monitor and control your refrigerator remotely through your smartphone. Receive alerts if the door is left open or if maintenance is required.